AAC Plant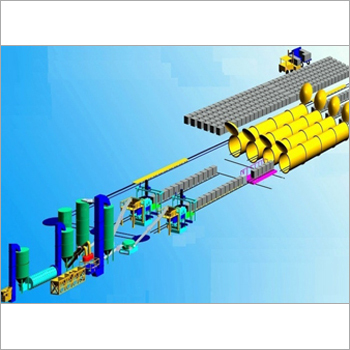 AAC Plant
Product Code : 01
Brand Name : BALAJI
AAC Plants

| | |
| --- | --- |
| Description | Capacity / Annum |
| AAC Plant Capacity | 18 cuM to 72 cuM (cubic meter) Per day |
It was in mid-1920s, when a Swedish architect and inventor Johan Axel Eriksson founded autoclaved aerated concrete (AAC). AAC is also called autoclaved cellular concrete (ACC) and autoclaved lightweight concrete (ALC). This light in weight, precast building material provided in the forms of wall panel, floor panel, roof panel, lintel lintel, block, etc., give insulation, structure, resistance to fire, construction speed and economy. The refined, highly thermally insulating concrete-based material is apt for internal construction and external construction. The material can be sanded, routed and cut to size making use of tools and equipment, like drills, hand saws and carbon steep band saws. When using AAC, customers get the benefit of easy and quick installation in construction and insulation. A thin bed mortar is needed in the building constructed to be constructed with AAC material. POP, cement plaster or stucco compound can be used as coating on AAC material. The outside of AAC material can also be covered with sliding material, like vinyl or brick sliding.
There are many benefits of AAC material over other cementations construction materials, for instance lower environmental impact, reduced heating and cooling load in building with thermal efficiency, minimum solid waste generation with accurate cutting and workability, savings in cost and energy in transportation due to light weight, low construction cost, high speed output, reduced structural weight, resource efficiency, and lower environmental impact in the life cycle, from raw materials processing to AAC waste disposal.
Ingredients
The main ingredients of AAC, include the following:
Fly ash
Water
Quicklime
Cement
Aluminum powder
Gypsum
Cement strength, and instant curing mechanism by autoclaving achieves the block hardness. Gypsum can be used for lasting strength gainer. AAC gets a different porous structure, insulation propertied and lightness through chemical reaction due to the aluminum paste. These properties are totally different in comparison to other lightweight concrete materials. The strength of AAC block and conventional brick is similar, but the block is a 2.5 times lighter. 0.6 to 0.65 is the specific gravity. This feature of AAC blocks when used for erecting structure buildings, saves the builder 30 to 35 % of structural steel, and concrete. The AAC blocks reduce the dead load on the building.
Assumption
Fly ash, the major raw material is a by-product of Thermal Power Plants, and is an environmental threat worldwide. Disposal of this polluting agent has become a challenging tasks of power plants.
Fly ash is used as primary raw material in the manufacturing of AAC bricks and blocks. Secondly, the invaluable top soil is saved by not using that in brick making, as in conventional brick making. Thirdly, AAC bricks and blocks making require no burning and thus further enhances their Eco-Friendly Brand. Less fuel is needed in steam curing, in comparison to the backing for each cubic meter of Bricks. This is why these bricks are also called as Eco Bricks and Green Bricks, Carbon Credit estimates are for reference purpose. The project owner must get Carbon credits, through consultants. It is possible that the Carbon credit can be transacted on registration. The process of preparing and presenting PCN, preparing and presenting PDD, host country approval and the UNFCCC Registration might take 6 months to 2 years. Sale price is estimated a conservative Rs 3200/- per cubic meter. AAC block in all sizes as per the BIS standards can be manufactured. In the first year, 300 working days must be considered with 80% estimated production capacity.
Why AAC Bricks?
| | | |
| --- | --- | --- |
| Saves Energy | Easy To Install | Less Weight |
| Endurance | Precision | Energy Efficient |
| Toxic Free | Thermal Insulation | Fire Resistance |
| Acoustic Performance | Moisture Resistance | Workability |
| Saves Costs | Thermal Insulation | Fast Construction |
| Water Barrier | Fire Resistance | Earthquake Resistant |
| Reduce Plaster Cost | High Strength | Pest Resistant |
Excellent Acoustic Performance:
Known for good acoustic performance, AAC is ideal to be used as an effective sound barrier, for instance intertenacy walls (AAC Wall Panel)
Ventilation:
The airy Autoclaved Aerated Concrete allows water diffusion, reduces humidity of the building. TRIEU CUONG AAC Wall absorbs moisture and automatically releases humidity by self-adjusting the humidity. This prevents condensation and issues in relation to mildew.
Non toxic:
No toxic gas substances are surrounded by AAC products. The product does not encourage or harbor vermin.
Lightweight:
AAC blocks are one-fifth of the concrete weight and are manufactured in standard sizes.
Rapid on-site assembly:
The products of Autoclaved Aerated Concrete are lightweight and quick to install due to their easy workability.
Long Life:
The harsh climate conditions do not affect Autoclaved Aerated Concrete products and won't degrade under normal atmospheric condition.
Accuracy:
The Autoclaved Aerated Concrete panels and blocks are produced to size through an accurate manufacturing process. The accuracy in size results in less on-site trimming. This also reduces mortar quantities and use of finishing materials.
Larger sized AAC panels and blocks are lighter in weight. The light weight not only saves the cost of foundation, but helps the mason
The blocks and panels have higer load-bearing strength
The high durability of the panels and blocks result in longer life and make it impervious to pest or rot
These are highly economical and dimensional accurate
These can be handled effortlessly and help in rapid construction
Excellent thermal insulation, six to ten times better than normal dense concrete
The fire resistance property of panels and blocks saves the life, property as well as insurance cost
The sound absorption property make the panels and blocks apt for the hospitality industry
These are easy to work, better than wood. It can be drilled, milled, nailed and sawn
Resistant from earthquake and hurricane
Not rotting (contrary to timber)
Get in touch with us